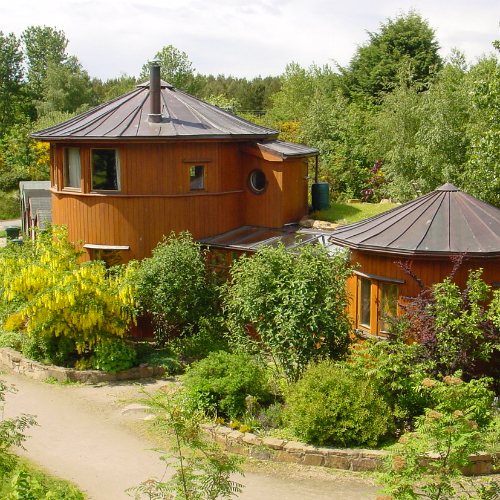 Program Overview
Explore the principles of "sustainability through community" in one of Europe's most beautiful countries – Scotland. Come live and learn  in the Findhorn Community – a unique eco-village known internationally for its innovation and commitment to holistic and sustainable living. Come fully immerse yourself in an inspiring community of sustainability leaders! Come earn 3 college credits during your experiential learning adventure and return home inspired to be the change you want to see in the world.
Current Scotland Programs
Program Dates: May 24 to June 6, 2020 (approximate)
Length: 2 weeks
Credits: 3 credits through Northland College, CELL's academic partner
Cost: $4,100 USD, plus airfare from the U.S.
Courses: contact CELL for a full syllabus. Click here for course descriptions.

Ecology, Humans and Sustainabilty: Lessons from Nature
Program Dates: Currently available as a custom program in collaboration with your college. Contact us for more information.
Length: 12 weeks
Credits: 16 credits through Northland College or one of CELL's direct credit partners
Cost: $14,900 USD, plus airfare from your hometown
Courses: contact CELL for a full syllabus. Click here for course descriptions.

Group Dynamics Course: Beyond Conflict (LINTD ####)
Worldviews through Mindfulness Course: Subtle activism (LINTD ####)
Principles of the Ecovillage Course: Respecting planetary limits (LINTD ####)
Creative Expression through the Arts Course: Exploring Sustainability (LINTD ####)
CELL's Custom Abroad Programs are the perfect supplement to your curriculum! We'll work with you to craft a unique field experience for your students – one that balances academic standards with hands-on experience in some of the world's most interesting countries and with leading sustainability focused organizations like Ashoka, Heifer International, Friends of the Earth, Northwest Earth Institute, Solheimar Eco-Village, and others. Our Custom Abroad Programs are a variation of our traditional study abroad programs. The key difference is that 
you
get to participate.  The dates are flexible and set to your schedule of when you would like to travel. .
Learn more
.
More Details
Are you interested in living and learning about sustainability in one of the world's most famous eco-villages (Findhorn) in beautiful Northern Scotland? Findhorn has received the UN Habitat Best Practice Designation for its innovations and commitment to sustainable living. What will you learn during a CELL/Findhorn program? A WHOLE LOT! Here are some activities you can look forward to:
Learn about the natural and cultural forces, history, geography, climate, etc. that have shaped the land and people of Scotland
Live and breath sustainability 24/7 along with inspiring people who are committed to living socially, environmentally, and spiritually fulfilling lives
Learn about sustainable living practices from organic gardening to solar home design, from the use of innovative building materials such as local stone and straw bales to wind turbine electricity generation
Learn how to reduce your carbon footprint from sustainability pioneers who daily walk the talk
Take a variety of field trips, including cultural and history excursions, castle visits, and hikes to the North Sea
Learn about sustainable design from 61 ecological buildings, renewable energy systems, organic food production, ecological waste water treatment, etc.
Learn from exciting classes that combine theory with practice and learning with doing
Learn the principles of sustainability leadership and develop an action plan to implement what you learn when you return home
Commit to being a future leader.
Since 1980 the
Findhorn Foundation
has evolved into one of the world's unique regional 'Global Villages.' Findhorn links the spiritual, social and economic aspects of everyday life and attempts the best of current thinking on human habitats.