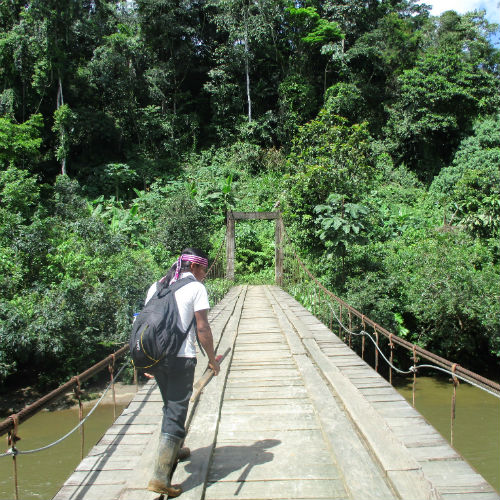 Program Overview
Sustainability in the Amazon
Are you interested in learning about sustainability through community from indigenous people who have been living these principles for a thousand years?  Are you interested in having an adventure of a life-time in a tropical Amazon environment?  Would you like to receive college credit while exploring amazing cultures and the rich biodiversity of the Amazon region? Are you interested in learning how one life, your life, can make a BIG difference in the world? If so, we invite you to join us for Sustainability in the Amazon – a two week experiential learning adventure. The indigenous communities of Ecuador provide a perfect opportunity to learn about sustainability through community from cultures that have been practicing a deep respect for the earth and strong community ties for a very long time. We will visit two communities: First, the Shuar community of Yuwints which we will access by trekking. The Yuwintz community has a deep respect for the natural environment and each other and a strong commitment to sustainable community living and ecotourism. See http://www.amazonica.org/en/ for more information. What will you do?
Hike into the community of Yuwints the way the Shuar travel through primary rainforests of the Amazon
Participate in community life through day stays with Shuar families
Visit sacred waterfalls and ancestral ceiba trees
Learn how deforestation and oil production threaten indigenous community life and what can be done to stop this destruction
Roll up your shirt sleeves and engage in service-learning projects with local community members
Learn about tropical flora and fauna
Understand the connections between your life and their survival
Second, we will visit the Salasaca indigenous community in the Central Andes.  The Salasaca people are famous for raising sheep and the production of fibers for making wool and elaborate weavings.  The Pila family, led by Alonso, will teach us the ancient sustainable practices of sheep husbandry and weaving. See http://www.hostalrunahuasi.com/es/ for more information. What will you do while visiting the Salasaca community?
Stay with a family of sheep-raising, wool producing traditional weavers
Experience the rhythms of animal care, fiber production and the famous Salasacan weaving traditions
Learn about Salasaca magical writing and weaving iconography
Understand how the Salasaca are impacted by encroaching development
Learn about sustainable energy production from micro-hydro to solar power
Learn how your life is connected to these people and what you can do to make a difference in the world
Where will you stay? In a rustic lodge along with your fellow explorers.
What about college credit?  You will receive 3 college credits – ENVS 380 – :  Ecology, Humans, and Sustainability: Lessons from Nature
How much does the program cost?  $4,200 + airfare.
What are the dates of the program?   This is currently a custom program, so the dates are set by you and when you would like to travel with your group.
How do I apply?  You can apply online at: http://www.cellonline.org/programs/study-abroad-programs/how-to-apply/ Have further questions?  Give us a call at 207-230-4025 or e-mail us at: info@cellonline.org. We look forward to hearing from you!
CELL's Sustainability in the Amazon Maymester is a perfect supplement to your curriculum! Come experience first hand what sustainability is all about and learn sustainable practices from indigenous communities living these principles. Come open your heart to amazing cultures and communities and learn what you can do in your life to live more sustainably!
More Details
Are you interested in learning the principles of sustainability though community from inspiring indigenous communities in Ecuador? If so, come join us for a life-changing adventure. What will you do? A lot! A sample of a few activities:
Live, study and work alongside inspiring, passionate people who have committed their lives to making our planet a more environmentally sustainable, socially just, and healthier and happier place to live
Practice speaking Spanish while visiting with your Ecuador host family during homestay portions of the program (no previous Spanish language study needed)
Learn the principles of sustainable community development from indigenous communities that have been living these principles for a thousand years
Learn about unique issues communities are facing and how they are working together to resolve them
Learn about tropical ecology and how we can design sustainable human systems patterned after nature as architect
Hike in the biodiverse tropical rainforest and see up close and personal a rich variety of plant and animal species
Meet inspiring people whose lives are untarnished by modern society
Come open your heart and mind to being changed forever.
Shuar Community of Yuwints – A beautiful, indigenous Amazon community accessible by trekking. The Shuar have a deep respect for their environment and for each other.
The Salasaca Community of the Central Andes is famous for sheep and the production of wool and elaborate weavings.
"Sustainability through community is being in a place where people care deeply about the natural world and each other, that creates a space for people to grow and share and love, and that is a constant exchange of giving and taking with no one keeping track. I don't know all of what it takes to build a sustainable community, but I want to try and I want to help create a feeling of community in the places I am and the places I'm going."