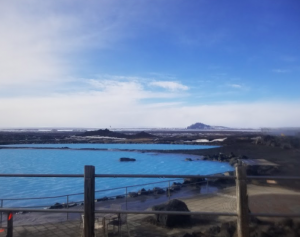 After days of sitting in the car, we collected a myriad of odors on our clothes and in our hair; of cows, sulfur and pb&j sandwiches. The idea of a picturesque nature bath, much like the blue lagoon that many of us knew as a symbol of iceland itself, sounded like a dream. When we arrived at the Myvatn Nature Baths, the first thing that hit us was the smell. Strong gusts of sulfur filled air, nearly knocking us over and we ran to the safe haven that was the entrance of the  spa.
Due to the wind we were informed that the bath temperatures were approximately 33 degrees celsius, as opposed to the average 36 – 40 degrees, and we were looked at as if were were wild adventurers when we said we didn't mind. After the locker room process, which consists of an amount of nudity that is comedically shocking to us americans, we braved the cold air and ran shrieking into the large milky blue pool. The water took some getting used to, but the view was spectacular, and despite the cooler temperatures, the bath was crowded. I learned later that the sulfur in the water is believed to have a positive effect on asthma and other respiratory diseases, and many of the trace elements in the water have a wonderful impact on skin problems. Somehow, after learning this, the scent started to smell less aggressive.

Being on top of a geothermal area, this lovely spa is able to have incredible sauna steam baths which we used to warm up after being in the water. When I exited the steam bath I was the most relaxed I had felt in days, my skin was soft and I was happy. Before coming to Iceland one of the only things I knew about Iceland was that they have the Blue Lagoon, but I didn't know why the water was like that, I didn't know what it meant. Bathing in the Myvatn Nature Bath added to the feeling of awe that being in the Icelandic landscape provides. This country is such a contrast to what I am used to, the dramatic land of fire and ice, of milky water and icy grounds. I am constantly overwhelmed by the new sights that I am seeing. It is no wonder that the tales of this land are so full of magic. I would highly recommend the experience of this bath to anyone wanting the full experience of this magical place.