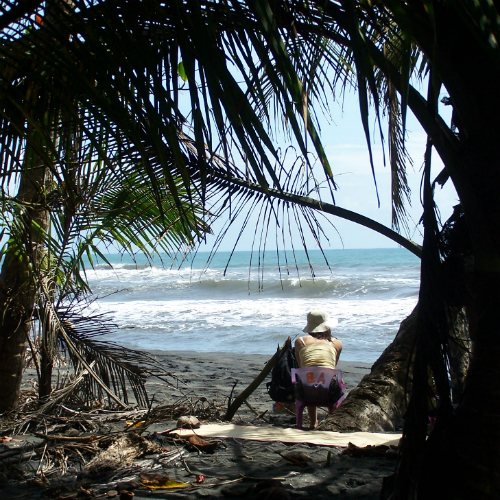 Program Overview
Travel with us to beautiful Costa Rica and Nicaragua and explore the principles of "Sustainability Through Community." Learn from inspiring people and organizations demonstrating the best practices in conservation and environmental management. Participate in sea turtle conservation, build a solar power system, and live at a sustainable eco-lodge/farm. Go beyond study abroad in Central America with CELL!
Current Central America Programs
Program Dates: This semester program is currently a custom program built around your group's attendance dates.
Length: 12 weeks
Credits: 15 credits through Lesley University or one of CELL's direct credit partners
Cost: $14,900 USD, plus airfare from your hometown
Courses: contact CELL for a full syllabus. Click here for course descriptions.

Language, History, and Culture of Costa Rica and Nicaragua (LINTD 2003)
Sustainability: Secrets of Simplicity (LINTD 3699)
Human Ecology: Humans and Their Environment (LINTD 3700)
Service-Learning: Sustainability Through Community (LINTD 3707)
Crossroads Thinking Skills for the 21st Century (LINTD 4003)
CELL's Custom Abroad Programs are the perfect supplement to your curriculum! We'll work with you to craft a unique field experience for your students – one that balances academic standards with hands-on experience in some of the world's most interesting countries and with leading sustainability focused organizations like Ashoka, Heifer International, Friends of the Earth, Northwest Earth Institute, Solheimar Eco-Village, and others. Our Custom Abroad Programs are a variation of our traditional study abroad programs. The key difference is that 
you
get to participate. The dates are set by you and when your group would like to attend.  
Learn more
.
More Details
Are you interested in learning the principles of sustainability though community from some of the most inspiring development organizations in Central America? If so, come join us for a life-changing adventure. What will you do? A lot! A sample of a few activities:
Live, study and work alongside inspiring, passionate people who have committed their lives to making our planet a more environmentally sustainable, socially just, and healthier and happier place to live
Learn Spanish while in class and while visiting with your Central American host family during homestay portions of the program (no previous Spanish language study needed)
Learn the principles of sustainable community development while building a solar collector or drip irrigation system or simple biodigester or solar oven
Learn about unique issues communities are facing and how they are working together to resolve them
Learn about tropical ecology and how we can design sustainable human systems patterned after nature as architect
Hike to the top of a volcano or through a tropical rain forest or to the top of a mountain to observe bird migrations
Swim in the beautiful, warm waters of the Atlantic and/or Pacific
Come open your heart and mind to being changed forever.
Our Partners in Central America
Grupo Fenix works with communities in Nicaragua to promote renewable energy, reforestation and sustainable development.
La Mariposa is a small, friendly non-profit Spanish school and eco-hotel, just outside the pueblo of La Concepcion, Nicaragua (Central America).
Selva Negra
is a sustainable coffee plantation and one of the world's inspiring ecological farms.
Asociacion ANAI
is a Costa Rican sustainability organization which has pioneered some of the tropical world's most successful community-based, sustainable-development practices.
"This CELL program has rekindled my ambition to improve the health of our ecosystem as well as given me an action plan with steps I am going to take when I return home to begin living more sustainably."